Welcome to Auberge Africa – Merzouga – Maroc
The hostel Africa Merzouga organizes for you, an unforgettable excursion in an oasis in the heart of the desert. Enjoy amidst the dunes of Erg Chebbi, extraordinary sunsets and sunrises. The nights are magical!
Our hostel in Merzouga offers food and shelter throughout the year. Moroccan food service will make up a local, tasty and spicy cuisine.
Motorhome or caravan, our campsite Africa in Merzouga, Morocco, offers a space in the shade of palm trees in the garden of hostel Merzouga.
The hostel Africa is located at the foot of the big dune of Erg Chebbi in the province of Merzouga. Where the desert, its colours, its people, its landscapes, its music…
You want know more about Morocco before your trip? The Hostel Africa suggest you a complete travel guide to know more about the kingdom of Morocco, its people, its culture, its traditions… You will discover some information to prepare for a safe and fun trip to Morocco and organize activities and tours.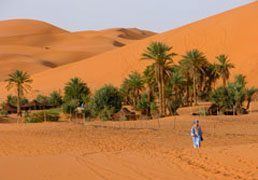 Discover amazing landscapes and new sensations with camel trip in berber bivouac or climb the 160 meters of the big dune of Merzouga.
The bravest can test surf or paragliging in dunes…
Merzouga is a small village in southeastern Morocco, on the edge of the Sahara desert. Before becoming a touristic village, Merzouga has always been an exchange crossroad between North and South.
Travel to Morocco is often synonymous with awesome landscapes (beaches, mountains and desert), spicy flavors and rich traditions but Morocco contains many hidden treasures! With this guide, you can prepare your trip to one of the most beautiful countries in the world…